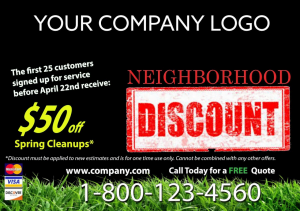 One thing that we have mentioned in the past is how effective postcard marketing is. But how do you track postcard marketing? Below are three of the things that you can do to help you know how well your postcard marketing is doing. This way you can change your postcard marketing tactics or add to them as needed.
Tracking Postcard Marketing by Phone
A really easy way that you can track your postcard marketing efficiency is by having a unique number that's present on your postcards. The number you use should forward the calls automatically to the main phone line. Then you should note the number of those calls as responding to your postcard. You also can have your salesperson or receptionist ask if the caller is responding to a postcard.
Tracking Postcard Marketing Using Email
Want to know another way that you can track how effective your postcard marketing is? You can also set up a dedicated email address to put on your postcards. This is just like putting a dedicated phone number on the postcards, but it's an email.
Tracking Postcard Marketing Using Unique URLs
A really effective and popular method of tracking is to include a URL on the postcard that leads to your website's landing page. It could simply be something like a special offer page. This URL should be simple yet unique. When you get the traffic through your page you will know how effective your postcard marketing is.
Tracking Postcard Marketing Using a QR Code or Coupon
When you include a unique coupon or QR code that has a discount or loyalty reward, it's going to encourage engagement with customers and track the rates of response. This lets you strengthen the relationship you have with customers and will also refine your business's marketing abilities. If you apply variable data to this order, such as PURLs, it will give you a tracking capability that's really unique. For instance, applying various coupon codes to your postcards for various demographics that are on your mailing list can also increase response rates and give you a much better idea of the spending habits of customers. You can customize them for factors like family size, geographic location, or age.
These are some of the things that you can do to help you with tracking your postcard marketing. If you are looking for a place where you can purchase postcards, we highly recommend using SendJIm marketing. We use them ourselves. If you have any questions or want to know more about our business, check us out on Facebook.