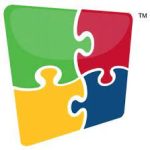 There are a host of customer relationship management (CRM) software programs on the market today. These include Service Autopilot, Real Green Systems, Jobber, LMN and The Customer Factor, to name a few. While each program essentially acts as the hub of your business by providing and supporting your customer and leads database, they each have something unique to offer the user. Here, we will provide a review of Real Green Systems.
In addition to their basic features, Real Green Systems has taken additional steps to add assisted software that includes a routing assistant, automated marketing, referral assistant, a customer assisted website option and the "mobile live" application, where you can monitor your fleet and provide up sell opportunities throughout the year.
Let's dive a bit deeper into what Real Green Systems can do for your business, to make it run more smoothly, more efficiently and more profitably.
---
Real Green CRM-What does it offer?
Service Assistant
Real Green Systems claims to have re-written their program over five times in the last 30 years, and in doing so they have added updates and expanded their offerings on several levels. The most basic features are found in the Service Assistant software, where you can store your client and lead information, add services, run reports, enter notes, add payments and create invoices and account statements.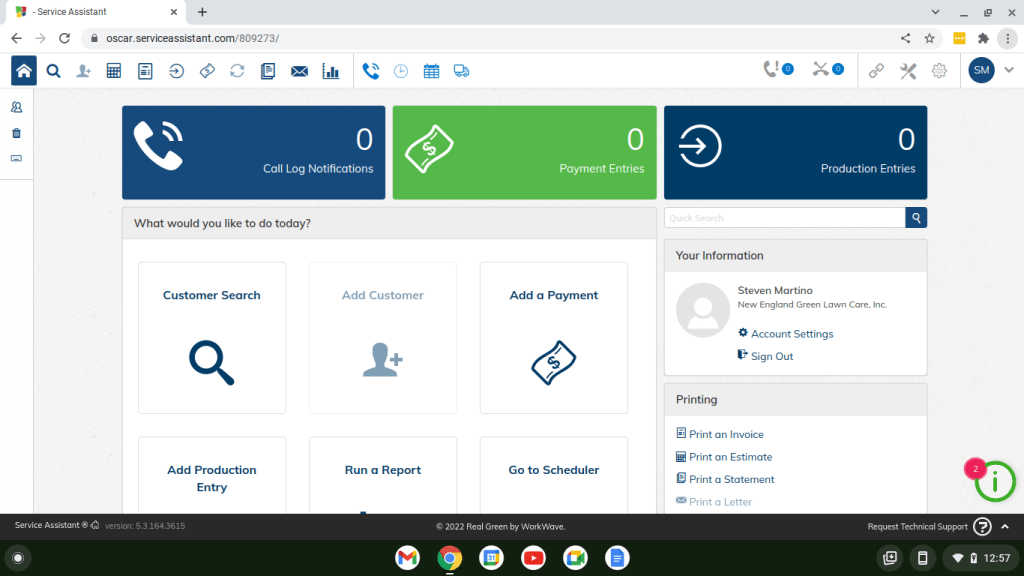 From within the Service Assistant dashboard, you have access to a wealth of reports which include sales reports, customer reports, estimate and summary reports, scheduling reports, history reports and financials. This seems to be one of the most robust and most valuable features inside Service Assistant, since it offers such a wide array of reporting to keep track of your business.
Whether you're running a landscape business, pest control, plumbing, tree care or carpet cleaning, you'll be able to enter and store your client information and bill them accordingly via email, if that is how you do your billing. You can print paper statements to be mailed to clients, as well. Real Green also offers integrated payment processing through Advanced Bancard Solutions, which they claim "streamlines" the client billing process and virtually "eliminates late payments."
Within Service Assistant, you'll be able to search for and easily view client accounts, client contacts (emails and other documents sent), payment histories and notes made on client accounts. You can also add and change services, once logged into a client screen. Also visible on the client screen, is their account balance, customer detail information, property details, invoice notes, scheduled services and flag selections.
Real Green Systems seems to makes good use of space, since they include so much information on the client home screen. In some other CRMs, you'll have to click in different places to view things like property and customer details and invoice notes. In Real Green, it's all right there in front of you.
What else can Real Green Systems do?
Aside from their Service Assistant software, Real Green also offers add-ons. Each comes with a cost, but by adding these features you can really ramp us business and make things run more smoothly. All of the additional features integrate with their Service Assistant software, allowing you more control over your business.
Routing Assistant
The Routing Assistant features a visual route designer, geo-coding, drag and drop route planning with printable satellite images and can include directions to customer addresses. You can also add flags for new customer stops, ASAP/past due jobs and service calls, all of which makes route planning much easier for you to do. You can also use this tool to create marketing routes for your crews, which is beneficial in churning up new leads for your business.
Marketing Assistant
Real Green's Automated Marketing Assistant is another offering, and it's something other CRMs also feature on their menus. So, this is not something unique to Real Green, but it does offer a valuable and effective way to provide upsells and generate more leads throughout the year. This automation feature integrates with Service Assistant and is triggered by data input from your office and sales team. Here you can send follow ups, share testimonials, post to social media, market referral programs, re-market to lost estimates and, ultimately, boost sales.
Referral Assistant
Another interesting and powerful option is the Referral Assistant. Within this feature, your existing customers can refer friends, neighbors and family via email or through social media and then they get rewarded for any referrals who become clients. Here, you can track your referral list and follow-up with a special offers to close the sale. This is an advantageous marketing approach, since it takes the often costly process of generating leads out of your hands and puts it into the hands of your existing clients. And, once they are rewarded for their work, it's a win-win for both you and the customers!
Customer Assisted Website (CAW)
This feature provides easy, convenient contact between you and your clients, which means less time on the phones and more time growing your business. The CAW software puts everything your customer wants to see, right at their fingertips, by providing a link from your website. These include billing, service history, next scheduled appointment, and the ability to request additional services.
Integrated with Service Assistant, you'll be able to view customer contacts readily from within the client screen. The most valuable feature with CAW, is the ability for customers to make payments online, make future payments and set-up auto pay options. This all helps to improve cash flow and keep your business running.
Mobile Live Feature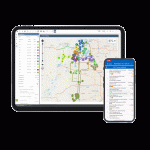 Another great feature-and again, not something that is entirely unique to Real Green Systems-is the Mobile Live software. This is Real Green's field service app, where technicians can access their route from their smartphone. But, what is interesting about this feature, is that it has the ability to replace your current GPS tracking system by tracking vehicles and miles driven, and it also provides maintenance updates for your fleet.
Within this option, your field techs will be able to access their routes, client and job information and start a timer once they arrive at a job. Mobile Live also geo-codes, in the event a tech pulls up to the wrong house. It will then alert your crew member of the wrong address. This is a really cool tool, since servicing the wrong address is a common problem and complete waste of time and resources.
Aside from knowing where your trucks and techs are at any given point throughout the day, you can also add jobs to a route and your techs will be able to view them in real-time. Additionally, your techs will have the ability to accept and process payments from customers right on the spot with the Mobile Live option. How cool is that?
Measuring Assistant
Lastly, another convenient application is the Measuring Assistant tool. Within this software, you can easily measure a property without having to leave your home or office. Obviously, this has several benefits that includes saving time spent driving to a location, man hours associated with that and fuel costs.
And, not only will you save time and money with Real Green Systems' Measurement Assistant, but you'll be able to send estimates much more quickly. That means your potential clients won't have to wait so long for a quote, increasing the likelihood they will book with you. Once done measuring, you can save the property detail information directly into Service Assistant and you can incorporate it into the marketing feature, as well.
---
Is Real Green Systems Right For You?
As a business owner, you'll have many choices for a CRM, but few are as robust as Real Green. The company offers free demos and training, which you can sign up for by clicking here.
If you are interested in learning more about Real Green Systems, feel free to contact us and we'd be glad to schedule a time to chat. In addition to CRM consulting, we also offer other software and business solutions help your business run more smoothly and efficiently. To contact us, please fill out this form.