---
Bouncie Car Tracker is an affordable, modern GPS car tracker that only costs $8 or less per month! Whether you are using it to track your own personal vehicle or you are using it for your business, it is a great tool and excellent technology. 
In this Bouncie Car Tracker review, I will go over the benefits of using this GPS company to track our fleet in my landscaping company, 855RILAWNS.
As you can see on both the Google Play store and the Apple App Store, Bouncie is highly rated. The reason being, it is simple to use, reliable, and has great built-in customer service through the Bouncie App.
---
---
How much does Bouncie GPS cost?
Bouncie GPS Tracker is one of the most affordable car tracker systems on the market. At only $8 per month for the first unit, and $6.70/unit if you use 3 or more for your fleet, it is a great value. There is a one time device purchase of $67, but once you own the unit you only pay the monthly fees. For your convenience, you can order the car tracker directly from Amazon by clicking the button below:
---
---
In comparison to Bouncie GPS, the last GPS car tracker I used for my landscaping company was called RealTrak GPS. They costed $25/month per unit, plus an initial purchase cost of $100/unit! They provided the same features in an antiquated platform, that was not nearly as user-friendly. So, the price point here is great, and you will not find better value in a GPS tracking app. The cost was the primary reason for switching to Bouncie GPS from RealTrak.
We have 7 vehicles with Bouncie, which means that we now pay 7 x $6.70= $46.90/month, versus the 7 x 25= $175/month we were paying with RealTrak. This equates to a $1537.20 annual savings for us, which will only increases as our fleet increases in size.
---
How do I use Bouncie GPS in my landscaping company?
In my landscaping company, I have around 15 employees plus or minus at the time of this writing. The guys work in crews of two. So, we have these GPS units on each truck, including the Manager's truck. So for $46.90/month this is what we use it for:
Keeping Employees Honest. Just by our employees knowing that there is a Bouncie GPS tracker in their truck, they know that they CAN be watched. That alone will help prevent theft or dishonesty before anything happens.
Planning. By knowing where trucks are, we can better plan our days. For example, if we know that a crew is done for the day and see they headed back to the shop, we can decide to hang around until they get back, versus making a decision to leave the shop to run to an estimate.
Proof of Visits. On occasion, a customer will say we never came, or we "were only there for 5 minutes." By having this GPS car tracker installed, we can easily reference the data and prove to the customer this was not the case. We have also used this data in customer credit card charge-backs to dispute the customer's charge-back, saying we didn't perform the work.
Firing Employees. Unfortunately, I recently had to fire a manager I had for 2 years. He had been doing work on the side for cash and was lying to me about it. What arose my suspicion, was that I kept getting "gps disconnected" alerts from the Bouncie app. One thing lead to another and I was able to find out the truck was located at a side job, which lead to my manager's termination. Without the Bounce GPS unit, this probably would have stretched on a lot longer and I would have had a lot more taken from me.
---
Bouncie Car Tracker App
The Bouncie App is great! In my opinion, there is one pitfall at the moment, but I will get into that a little later in this Bouncie GPS car tracker review.
---
---
The Bouncie GPS unit that you purchase plugs into the OBD port of the vehicle. This is super easy, as it does not need to be wired and there are no batteries to worry about changing. The OBD port is just under the steering wheel in most vehicles. For your convenience, this website makes it super easy to locate the port in your car, truck or work vehicle.
---
When you first login to Bouncie, it will show you the last vehicle you accessed. However, from the top right menu, you can select a drop down of whichever vehicle you would like to look at.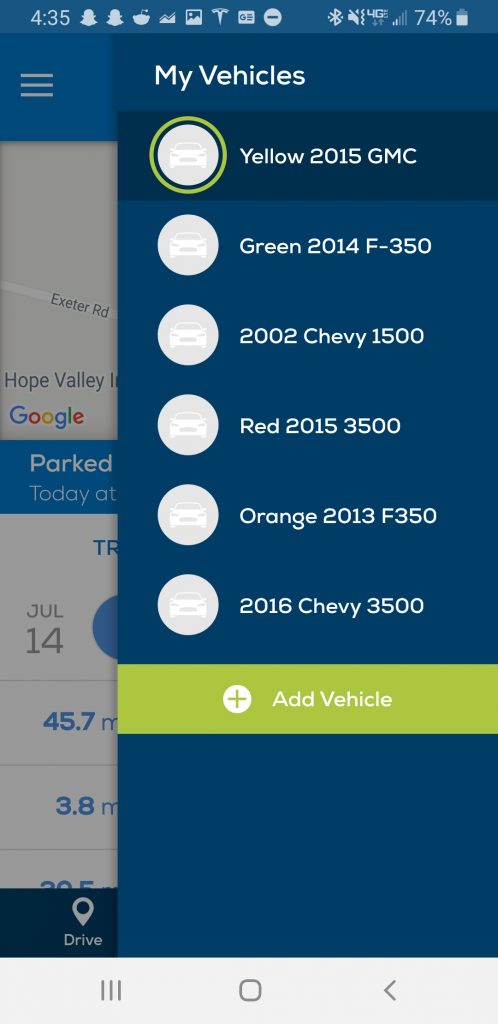 ---
Information Visible from the App
Once you select the vehicle, you can access information such as the battery level, fuel level, mileage, and whatever other information your vehicle's computer provides to the unit. This can come in handy! Also, what is nice is that the Bouncie App has a nice organized place you can keep your insurance and receive reminders for maintenance and inspections. Especially with a fleet, like I have with my landscaping company, it is a hard thing to keep track of all of this information! This is something where Bouncie helps.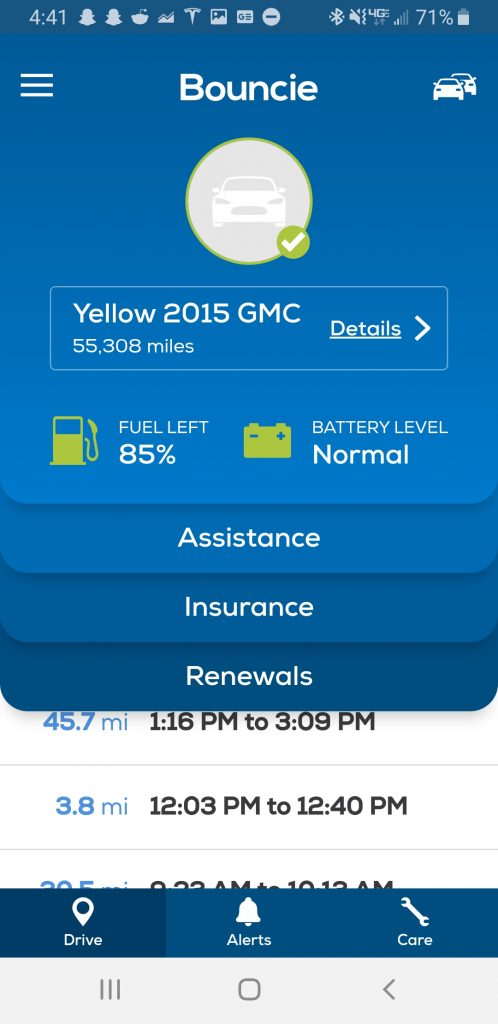 ---
With the data that your car sends to the Bounce GPS Tracker, Bouncie is able to send you alerts based on certain events happening. These include speed alerts, hard braking, and the vehicle moving outside of a set curfew. It will also show fuel level and geo-circles, to name a few. These geo circles come in handy with my landscaping company, because we know when the trucks are leaving the shop or entering the gas station.
---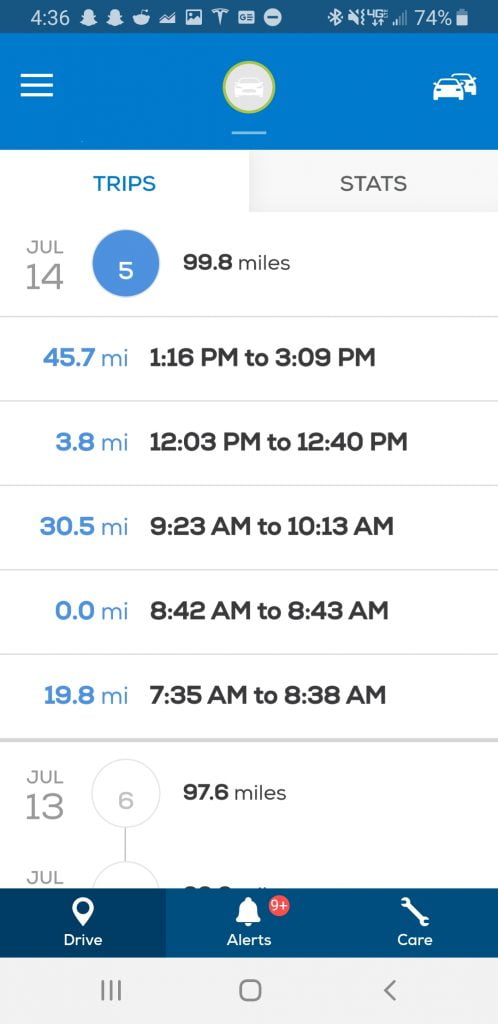 In the Bouncie App, there is both a "trips" and "stats" tab for each vehicle. On these tabs, the App conveniently tracks totals for amount of fuel used, idle time and travel time. If you click an a trip, it will show you the map and details of where that vehicle went. It will also show what events happened on that trip.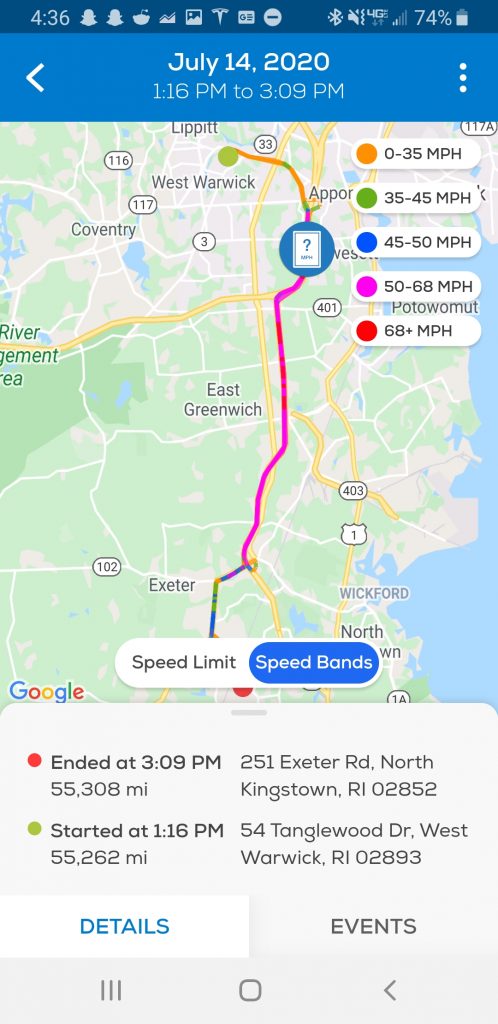 ---
BUT…..
The only complaint I have about Bouncie GPS App at the moment, is that on the App, you cannot view all the vehicles on a map at once. You have to look up each vehicle one at a time. This is an enhancement I hope they implement soon, to an otherwise fantastic service! It should be noted that on the desktop version you can see all the vehicles at once, just not on the Bouncie App.
Bouncie Car Tracker Support
The support at Bouncie is great! The chat is built right into the Bouncie App and there are no frustrating menus or FAQs you're forced to go through to get some simple help. Just click help and chat away! This is a big value for me. If you have trouble with set up or just have some questions, the support is fantastic! I use the support to copy over my alert settings, so I didn't have to set them individually for each vehicle.
Want to know more about how you can use Bouncie GPS in your business? Contact us and we'd be glad to share more information with you!