Phone systems for small businesses is every organization's communication tool. Without it, the relationship between the firm and the customer would be not be good. This is also true for Fortune 500 companies. What differentiates these two, is that Fortune 500 companies invest a lot into customized phone systems. And, we're giving you the same communication system used by fortune 500 firms – without the cost. 
---
A phone system is essential to growth!
The importance of phone systems for small businesses and large companies in today's market is huge. Customers need special care and communication is an essential part of meeting those needs. Today, every business needs a phone system to keep up with the competition. However, this is not your usual phone system.
Tired of using your cell phone to run your business? No work-life balance? Sick of spending time catching up on all your voicemails? Are you losing work because you aren't picking up your phone? I would guess that if you call 10 of your competitors in May, only 1 will pick up the phone.
65% of customers still prefer to contact a business by phone
75% of customer believe calling is still the best way to get a quick response from a business
80% of business is conducted over the phone
However:
80% of phone calls go straight to voicemail and

72-80% of callers will hang up without leaving a voicemail, if their call isn't answered
So you can see why investing in a phone system for your business is so important!
What if you could have the answering service of a fortune 500 company for less than $200/month? Now, is the time to invest in your communication. Our phone system for small businesses and large companies alike gives you a lot more than just picking up the phone. You get to operate a communication system that has the same quality as the Fortune 500 firms. Here, we use RingCentral as the backbone for our answering system, in collaboration with an outside call answering company to provide you with an excellent phone system solution without having to learn anything yourself.
All answering plans include:
Two phone numbers- your own custom toll-free number AND your existing number ported over
A professional, studio-recorded 75-word company greeting
A professional, studio-recorded 100-word hold message with background music
Unlimited extensions
A courteous, live answering service to pick up your phone 24/7 with the option to email or text a summary of your message
Start Up
127.98/month
100 Toll Free Minutes/Month
Unlimited Extensions
Live messages at 1.29/min
1 Custom Company Greeting
1 Custom Hold Message
1 Ported Number
1 Custom Toll-free Number
Growth
331.98/month
1000 Toll Free Minutes/Month
Unlimited extensions
100 Live Messages
1 Custom Company Greeting
1 Custom Hold Message
1 Ported Number
1 Custom Toll-free Number
Unlimited Internet Fax
Enterprise
557.98/month
10,000 minutes/month
Unlimited extensions
500 Live Messages
1 Custom Company Greeting
1 Custom Hold Message
1 Ported Number
1 Custom Toll-free Number
Unlimited Internet Fax
*All packages require a one time $999 setup fee.
Add-ons available:
A successful phone system for small businesses needs to have all the ingredients. To meet all the needs of your customers, we've included all the add-ons to streamline communication. 
---
What our customers have to say…
Justin has been a huge help to our business between automation and mareketing implementation. He can accomplish in hours or days what would take me months or years!
He is always quick to get back to us and over communicates any issues going on. We will continue to use and recommend RBS to our network.

Justin is great. He is a fantastic listener and has really helped us to streamline our systems. I highly recommend Justin!
I would recommend Ready Business Systems to anyone that is needing help from building automation templates, to marketing their business, or just a 1 on 1 consulting calls! Ready Business Systems has bent over backwards to help me in any kind of situation that I came across with service autopilot! I highly recommend them! They will always be my go to!

Lawn Care Monster
2/17/2023
I met Justin a couple years ago and didn't do anything at the time with him. As my business grows I now wish I would have implemented systems earlier. He's been a great sounding board for new ideas and has an extensive knowledge of the software systems used in a service based business. We look forward to a long term working relationship with Ready Business Systems.
Bren VanderZwaag
4/28/2021
Justin and Steve have done so many positive things for our business. They seem to have a solution for every problem we have in our business, or at least another take on our issues. Justin takes a mentor/coach approach. Ready Business Systems is/ has been a valuable part of my company's success this year.

Additional company phone number: $10/month
Physical desk phones with dedicated phone number (Cisco SPA525G): $30/month plus one-time equipment fee of $299
Additional background music: $50 one-time fee per message (included FREE in hold message in all packages)
Additional words in greetings: $100 per additional 75 words
Welcome message example. Customers will hear this when first dialing your number:
Hold message example. Customers will hear this when put on hold or instead of a ring:
Answering service message example. A live human to pick up your missed calls 24/7 and deliver you a message via email or text message!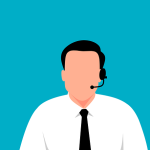 Communication is key to the survival of your company. This can only be achieved with a robust phone system for small businesses, which are set up to meet your needs. At Ready Business Systems, we make sure that you never lose a customer again as a result of a missed call.