What is SendJim?
SendJim is a marketing platform designed to automate the growth of your business. Combined with Service Autopilot Automations, it is an unstoppable marketing force! In this SendJim review I will go over the different features of SendJim including automated Postcards, Emails, Letters, Greeting Cards, Gifts, Voicemail Bombs, Radius Bombs, integration with Service Autopilot, and SendJim University.
---
---
Sign up for SendJim through this link and enter code "WCR" for 2 weeks free and 100 free postcards!
---
Once I started using SendJim with my landscaping company, 855RILAWNS, I completely stopped using many of my other marketing tactics such as USPS EDDM, call campaigns, and manually mailing marketing letters. If you are interested in seeing the actual marketing material we use at 855RILAWNS, you can read the blog we wrote about it, here.
Why did I stop using the other methods above? One word: Automation. As a general rule of thumb, anything you can have a computer do in your business instead of managing an employee, DO IT! Computers always do what they are supposed to do, are never late to work, and do not complain! There are so many people and things to think about and manage on a daily basis owning a business. This is why I always automate anything I possibly can.
---
SendJim Credits
---
Before you are able to send any Quick Sends, you must first purchase SendJim "credits." In the SendJim world, 1 credit is about 69 cents at the time of this writing. And, sometimes they will have specials where you can get these credits slightly cheaper. You may replenish your account at any time in the increments of 100, 250, 500, 1000, 2500, or 5000 credits, which I will explain below in this SendJim review. If you integrate with a CRM, you must also set up autoreplenish and a maximum spending limit.
---
---
---
SendJim Review: Quick Sends
---
The first thing you must understand, is SendJim Quick Sends. Quick Sends are what SendJim calls the physical marketing materials that you are able to deliver to your marketing list. This includes postcards, emails, letters, greeting cards, physical gifts, and automated voicemail "bombs" (a voicemail that is inserted into your target's voicemail inbox without ringing the phone)
All of the Quick Sends shown above can be manually sent to your marketing list OR can be automatically sent once connected with Service Autopilot Automations. The synergy of SendJim marketing combined with Service Autopilot Automations is really where the amazing things start to happen.
I will get into more detail down below, but I just want to give you a taste of what is possible when the SendJim-Service Autopilot synergy happens:
Gifts mailed to clients who give a 6 or below on your satisfaction survey
Postcards mailed to your clients' neighbors upon completing a job
Voicemails left in your clients inboxes after you send them a proposal
Gift cards mailed to your clients after leaving an online review
Annual marketing voicemails left at specific times of year
This list goes on and on how you can harness the POWER of this unstoppable marketing force!
---
SendJim Review: Voicemail Bombs
What are SendJim voicemail bombs? This was a completely new concept to me. What they are, directly from SendJim:
"Want to drop a voicemail straight to your customers phone? Voicemail Bomb is the way!
Use it to follow up, for appointment reminders, or even just to say thank you!
Prior to Voicemail Bombs, I would ask my office manager to follow up on sent estimates, and marketing campaigns to leads throughout the year. She hated doing it! This meant I would be pulling teeth to get these calls done, and she would just never "have enough time." There was always one excuse or another why she wasn't making these phone calls. When I could actually get her to call, most of the calls went to voicemail anyway. This was one of the many things that prompted me to write this SendJim review, to share the value this system provides to others!
Once I started using SendJim with 855RILAWNS, I immediately took that task away from my office manager. Ahh. What a relief! One less task to manage and one less thing to worry about. I can't tell you how much I love when things get done that I don't need to manage.
So basically you record a message once. When triggered, it somehow (don't ask me how) leaves a missed call on the receiver's phone, and inserts a voicemail into their voicemail inbox. Incredible!
Example SendJim Review Voicemail Bomb
Below is the actual voicemail bomb we use to follow up on estimates sent with Ready Business Systems
Transcribed from above: "Hey, this is Justin with Ready Business Systems. Just calling to follow up on the contact request you sent me regarding our business automations services. I am going to shoot you an email right now with a link to schedule an appointment to talk. If you could schedule that, then we can talk more about what you are looking more. I'll talk to you soon!"
Through the Automation in Service Autopilot, an email with a link to calendy is then sent, which automatically schedules an appointment in my Google Calendar. This is the POWER of Voicemail Bombs.
---
SendJim Emails (0 credits)
---
Although this SendJim review intent is not to focus on email marketing, I will brush on it. SendJim has 10 prebuilt templates to make your emails look professional. They also have built in macros for name, address, city, state and zip so you can customize your emails to your audience. Nothing special, but good to have this option if you use SendJim as your primary marketing interface.
---
---
SendJim Postcards (1 credit)
The postcards from SendJim are available in a 4×6 or 5×8 size. The 4×6 postcards are 1 credit, whereas the 5×8 cards are 2 credits.
---
---
When creating a Quick Send post card, SendJim has hundreds of built-in postcards for you to use, and customized for industry or purpose. All postcards have a customizable area for inserting a QR code, your company information, and client's information. You also have the ability to upload your own postcard design. At 855RILAWNS, we use these postcards to market services internally to our existing client & leads database, as well as mailing to neighbors upon our crews completing work in their neighborhood.
---
---
---
---
SendJim Letters (2 credits)
SendJim letters are basic letters that can be mailed to clients. The same macros are available as shown above (first name, last name, address, city, state and zip). However, you also get to choose the letter content which has a total limit of 1800 characters, where the macros count as 15 each.
The letter is only available in black and white, and will be shipped in an envelope. At 855RILAWNS, we use this feature to automatically mail letters to new clients upon signing up with us.
---
---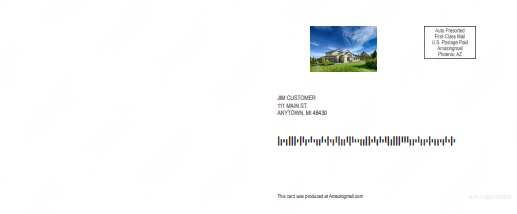 ---
SendJim Review: Greeting Cards (2 credits)
SendJim also has greeting cards available. This is a great feature! The greeting cards are available with or without a gift card, so I will go over them together here.
---
Whereas the greeting card alone is 2 credits, you can send a gift with this greeting card for a variety of merchants including Starbucks, Home Depot, Amazon, pre-paid American Express card, Subway, BestBuy, Buffalo Wild Wings, Lowes, Itunes, Cheesecake Factory, and Olive Garden.
---
---
The prices to send SendJim gift cards, including the customized card, are as follows:
$10 gift card (22 credits)
$15 gift card (30 credits)
$25 gift card (43 credits)
$50 gift card (80 credits)
$100 gift card (152 credits)
---
---
---
Just like the postcards, SendJim offers many different types of pre-written cards to suit any occasion. However, it is noteworthy that you CANNOT upload your own custom cards here.
---
---
Just like the letters, you can customize your cards to have the text you would like. Here, it is limited to 240 characters where each macro shown above counts as 30 characters, so you have to keep them short and sweet!
---
SendJim Handwritten Cards (6 Credits)
---
---
SendJim never ceases to impress me. Now, they have handwritten cards! These cards are not your typical, clearly-printed-but-meant-to-look-like-hand-written cards; they are actually written with a pen by a ROBOT, so they are indistinguishable from a human's handwriting! It has been proven that handwritten cards have a response rate that is 1000% better than direct mail, because they look more personable. Who doesn't open a card that is handwritten to them?
These hand-written cards can be used for a variety of purposes, from regular marketing, to birthday cards or anything else you would like to be personable.
---
---
There are currently 3 cards you can pick from, and 4 different handwriting types.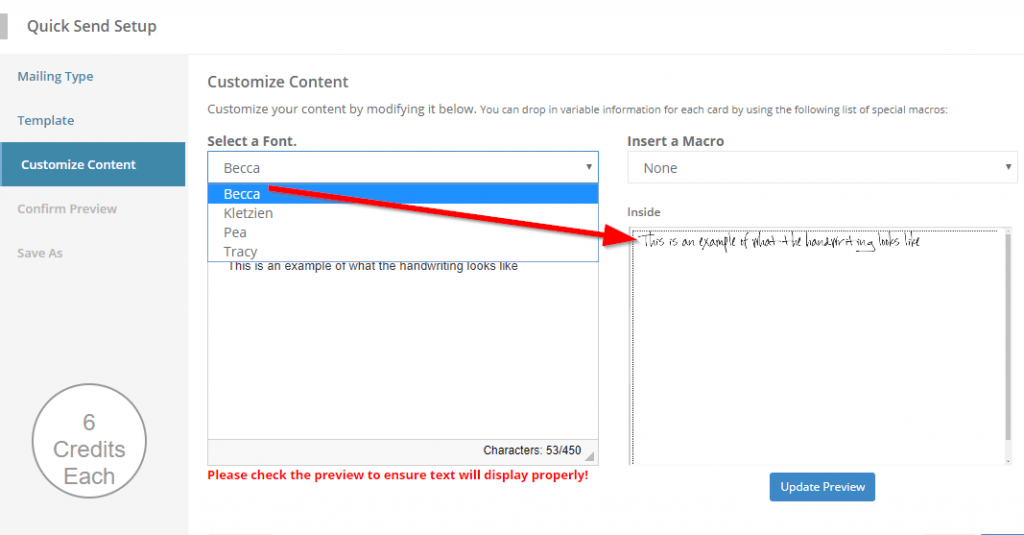 ---
SendJim Gifts (4-50 credits)
---
Another awesome feature I will go over in this SendJim review, is the automated gift mailing. For the gifts, they have gift cards as discussed above, but they also have assorted gifts such as brownies, cookies, and a crisp $1 bill, for example.
---
---
With 855RILAWNS, we use this automation to send out a pack of gummy bears with a card that says "sorry we messed up," whenever manually triggered or when a client gives us a 6 or less on our emailed review form.
---
---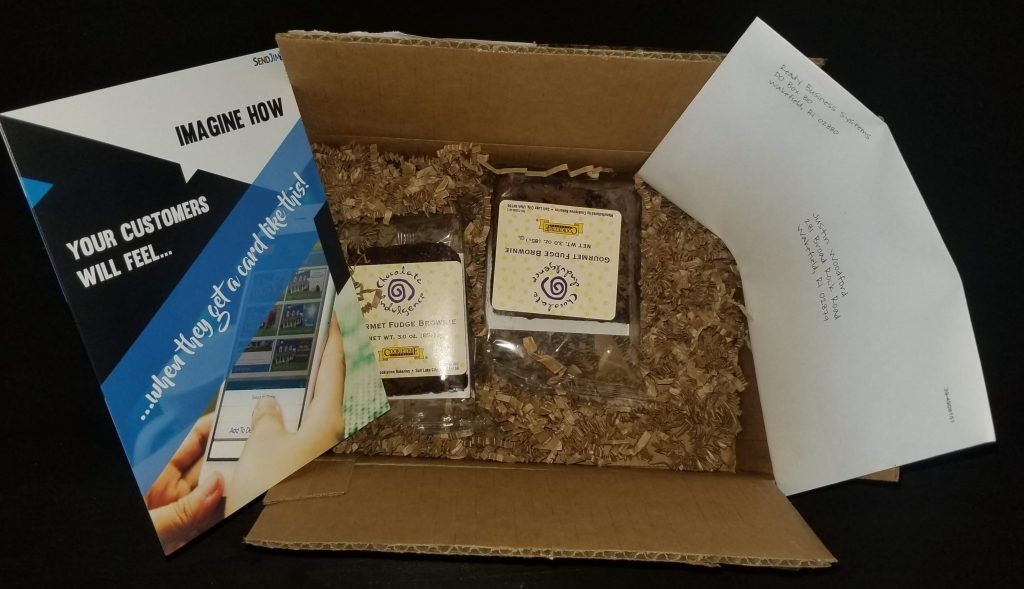 ---
SendJim Review : Radius Bombs
---
The Radius Bomb feature in SendJim enables you to mail marketing materials to addresses you select from a map!
---
What is a SendJim Radius Bomb? It is an incredibly amazing marketing tool that allows you to quickly blast marketing material to addresses which you select on a map. This can be random areas or neighbors of your customers or leads.
In Service Autopilot, we call this strategy 5-arounds (5 pieces), or 9-arounds (9 pieces), which means that we mail neighbors of existing clients. After all, in many service businesses where you work at the property (HVAC, landscaping, window cleaning, house cleaning, etc), your costs consist of a lot of drive time. Increasing your client density reduces your costs, which then increases your profit or allows you to pick up more customers by giving more competitive pricing.
Below, you can see how these Radius Bombs are automated by connecting to Service Autopilot Automations.
---
SendJim Integration with Service Autopilot
---
SendJim becomes exponentially more powerful when paired with Service Autopilot Automations. All of the Quick Sends available from SendJim are able to be sent out automatically. SendJim also integrates with other CRM software: NiceJob, Jobber, The Customer Factor, Responsibid, and Service Monster.
Watch the SendJim review video below to learn more
---
Below, are some more examples of what is possible with the Service Autopilot integration with SendJim:
Voicemail bombs automatically sent to follow up on sent estimates
Postcards mailed to 9 neighbors immediately after jobs are completed
Postcards mailed on annual marketing campaigns to leads
Letters mailed to greet new clients
SendJim integration with Jobber
Don't use Service Autopilot? SendJim also integrates with Jobber. Jobber is another great CRM that handles many of the same features Service Autopilot does.
The SendJim integration with Jobber is slightly more limited, in that it can only trigger a campaign based on a job being scheduled or an invoice being paid.
Automations & SendJim Synergy Examples
Below, are actual screenshots of what this synergy looks like when Service Autopilot Automations are combined with SendJim:
---
---
How to setup SendJim Integration in Service Autopilot
For this part of the SendJim Review, I will go over how to enable the integration with Service Autopilot. This is done by going to the gear icon in the top right corner, then selecting Integrations.
---
---
Once the integration is enabled in your Service Autopilot account, you will now be able to simply drag and drop SendJim marketing into any of your automations!
---
---
Within Service Autopilot Automations, you have the ability to mail to either the client/lead in the automation, or the client/lead's neighbors (either 5 or 9 neighbors). For example, if you are building an automation for following up on sent estimates, you would probably select "client" so you could send that letter to the client, not to his neighbors.
In another example, if you are building an automation to run after a job is completed, you may wish to select "neighbors," so you can market to the neighbors of the client whom you just completed work for.
---
---
SendJim Education
---
As an added bonus, SendJim offers FREE education! And not only that, when you take the classes, you get credits to add to your SendJim account.
---
Joshua Latimer, who is one of the founders of SendJim, is a marketing genius. He has a passion for marketing and offers a whole library of courses in his SendJim University. For each course, there is in-depth training on both marketing concepts, as well as how to use the SendJim internal system.
For each course you take, you get credits which you can use for your own actual SendJim mailings! For the purposes of this SendJim review I won't get into too much detail, but I wanted to make you aware of this great educational opportunity that may not be highlighted elsewhere in other SendJim reviews.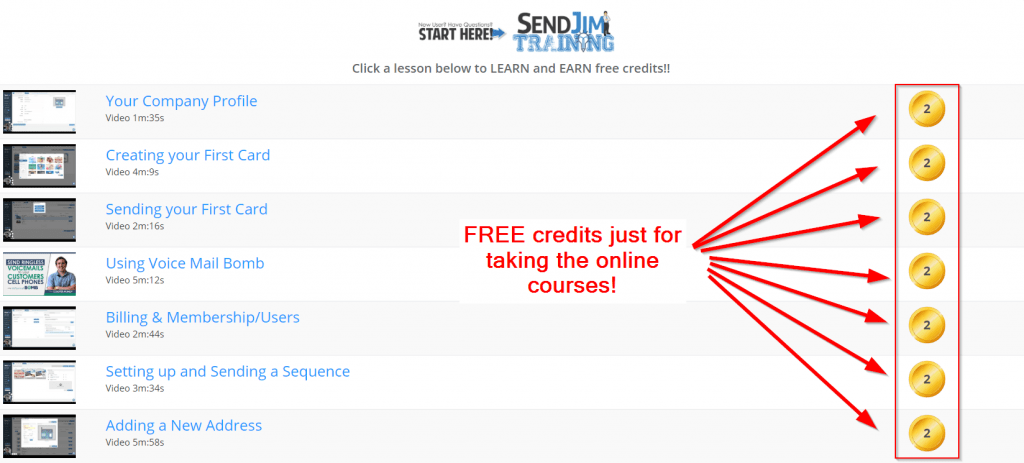 ---
SendJim Review: Closing Remarks
I am writing this SendJim review because I am honestly very passionate about this technology. I have never seen a marketing system as powerful as this, and if you use it in your business you will see tremendous results, as we have. Not only that, but with the automation that comes with it, you will be less stressed and have MORE time.
The opportunities this technology creates is incredible, especially when tied together with Service Autopilot Automations. If you have the same experience as me, once you start using SendJim and see how powerful and easy it is to use, you probably will use it to replace many of your other marketing tactics.
There are still many other marketing strategies you would want to use to enhance your marketing which are discussed on my marketing 101 page. This includes website SEO, PPC, social remarketing, truck decals, and utilizing yard signs.
Remember, automation is extremely powerful and you must use it wisely. If you Automate something that is not done right, it will still keep repeating the wrong process over, and over, and over, and over, and over, and over, and over, and over, and over, and over, and over, and over, and over, and over, and over, and over, and over, and over, and over, and over, and over, and over, and over, and over, and over…… 😉
---