These days many businesses put all of their effort into online marketing, believing that, since most people are online, that is what they should be focusing on. Although online marketing is important and should be used to its fullest, offline marketing is also a very essential part of any marketing plan. Offline marketing can be something as simple as a business card that you give out to people who you meet in your every day life or as complex as a billboard.
What Benefits Does Offline Marketing Offer?
So, why is it that offline marketing so important when most people you are marketing to will have a computer, or at least, a smart phone or tablet? The best thing about offline marketing and online marketing is that they can complement one another. Let's look at some of the benefits below.
It's Eye-Catching – Chances are that you have driven down the street and seen a realtor sign or a sign for a landscaping company. Perhaps you have considered having landscaping done on your property and you want to know the companies available in your area. Yes, you could go online to search, and it's possible that you have. But when you see a sign on homeowner's lawn, you can see for yourself what kind of work they do. And a realtor sign will tell you what houses are for sale and who is selling them.
It Helps Define a Boundary – Signs are a very handy way that you can market to the people who are in your service area. If you only serve certain neighborhoods or towns, you can put signs up in those areas. 
It Can Easily Fit Any Budget – One of the best things about offline marketing is that you can find a type that can fit any budget. For instance, business cards are a very popular option because they can be ordered in large quantities for low prices, come in a variety of colors and options, hold a wealth of information, and can be taken with you anywhere you go.  This makes it very easy to hand out when the opportunity arises. Another popular option are postcards like the ones from SendJim. These are handy for sending out promotions and getting new customers.
If you have an online marketing plan, you're off to a good start. But don't forget to go old school with offline marketing. Find the perfect offline marketing products through SendJim or UZ Marketing and increase your reach and business.
Let's look at some of the things that UZ Marketing offers.
UZ Marketing Offline Marketing Product Options
Yard Signs – This is one of their most popular items. They come in alot of different sizes for you to choose from. They ship for free and make a very popular and visible option for many types of businesses.
Business Cards – This is an offline marketing item that every business owner should have. This little piece of paper is so valuable, because it comes in many different options, and it can hold all of your information. Simply give it to people and they have your contact information.
Door Hangers –A door hanger can be used in many different ways. For example, you can use them to let new potential customers know that you have a sale going on. Or, if you have gone to a customer's house and they weren't home, it's a way to say, "Sorry we missed you!" 
Vehicle Magnets – Your employees are driving around to customers' houses. Why not make their vehicles a rolling bollboard on the way? Vehicle magnets are a great way to do this since they are eaislhy removed and they don't need any special ability to put on, like a vehicle wrap. They also make it easy for customers to identify an employee. 
T-shirts – This goes along with the vehicle magnets above. When your employees are wearing these, they're a great walking billboard for your business. They also help custoemrs to identify an employee as part of your company and makes them highly visible. These are used a lot in the retail business sector, but they can also be used in service businesses such as plumbing, landscaping and others.
SendJim Offline Marketing Options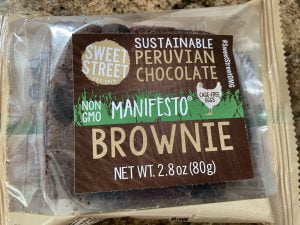 SendJim offers a varity of options, from brownies that you can send to your customers, to postcards to voicemail bombs. While postcards are a great option to send out in masse, the tasty brownies are more of a gift to send someone when you want to show appreciation or another type of message. 
In conclusion, offline marketing is just as important as online marketing. It can't replace online marketing, and online marketing can't replace offline marketing. Rather, both of them complement each other and work perfectly in sync.