By Stephen V. Martino
As a lawn care or landscaping business owner, you know the meaning of hard work. Between bidding new jobs, servicing existing accounts, providing for your team, buying and maintaining equipment, making sure finances are in order, and fostering client relationships, you're being pulled in many different directions at once. Nobody ever said it was going to be easy, right? How do you find the best landscaping CRM?
This is where technology comes into play.
You've probably heard about customer relationship management (CRM) software at some point, or maybe you're already using it. If you aren't already using a CRM program, you may be considering one. Yet with so many choices on the market, choosing the right one can be quite overwhelming.
Enabling Automation
In today's business world, much of the communication you receive from other companies is automated. Automation makes it easier for a company to stay engaged with customers, while enabling employees to focus on other tasks.
A good example is automated marketing. The best landscaping CRMs have this feature. Is someone sitting behind a computer, sending out all marketing emails? The answer is no. Yes, someone is writing and designing content, but then they plug the work into an automation and it's off-and-running. This is done with CRM software.
Another example is automated estimate follow-ups. This feature automatically reaches out to customers (usually via text or email), to check-in and follow-up on estimates. Just think of the time saved. While you may still reach out to customers by phone, half the work is done for you.
But these examples are just scratching the surface. When the best landscaping CRM's first hit the market years ago, they were basically just a way to store and manage company and customer data. Since then, they have evolved into full-blown automated systems where you can create business processes that essentially run on their own. This is especially helpful for recurring tasks which—when left to an automated program—can free up time for other responsibilities. That's the idea behind CRM software—to make business easier.
CRM Software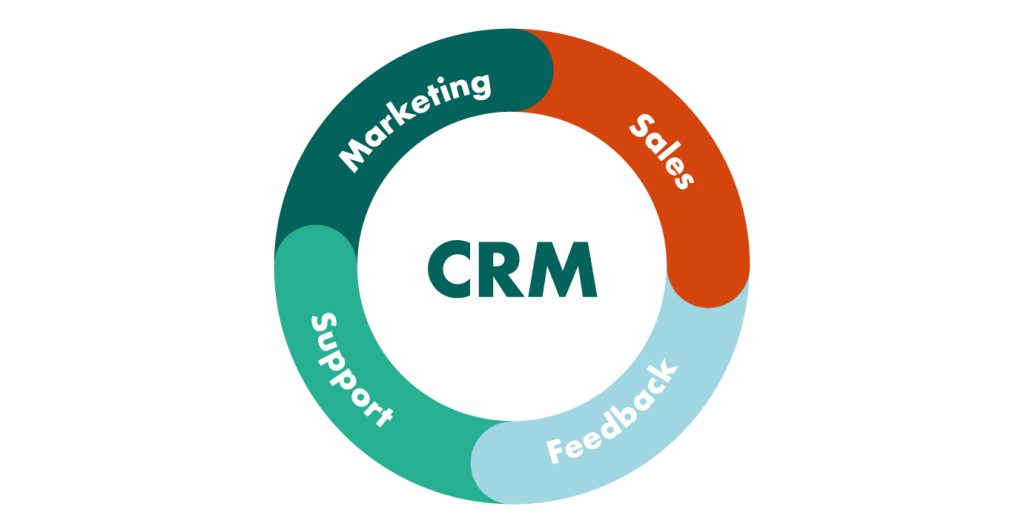 What is CRM exactly? Simply put, CRM is a software program that functions as the hub of your business. It's where you store all company and customer information, send estimates and invoices, schedule jobs, track finances with reporting, and more. Aside from performing core functions, a CRM program also makes your company appear more professional. Customers want to know they're hiring a competent, organized business and a CRM will do just that—put it all together.
There are many different types of CRM. Some are designed specifically for lawn care and landscaping, while others are used in a variety of service industries. Some are designed to be super user-friendly, requiring little-to-no technological or computer skills, while others are more complicated yet super-powerful.
Deciding which program will work best for you can be daunting. Each has their own platform and functionality and if you've never used CRM before, you may find yourself scratching your head in confusion. Fortunately, most CRM providers have support teams and free training sessions to assist with set-up and functionality. In most cases, you can request demos with software providers, but it really comes down to what you and your business need.
Here are some things to ask yourself when deciding if a CRM program is right for your business:
Am I at a point where I can afford to pay for a CRM subscription?
Do I have the time available to set-up and learn to use the program?
What do I want out of a CRM?
Will I use it for more than just storing and managing company and customer data?
Do I want to automate any aspects of my business?
Will I need mobile apps in the field?
Which CRM Is Right For You and how to choose the best landscaping CRM?
When choosing a CRM, it's really about what works best for you. Do you want a program just for storing customer information, and sending estimates and invoices? Or are you looking for something a bit more robust? Here's some input on popular options.
Service Autopilot best landscaping crm. In our landscaping business, 855RILAWNS, and here at Ready Business Systems, we use Service Autopilot. We've been using this software for over 10 years and we have maximized functionality through automations, mobile applications, job scheduling, customer text messaging, and reporting.
Service Autopilot, based in Richardson, TX, has been in business for many years and are one of the leading lawn and landscape CRM providers available today. Like most providers, Service Autopilot offers different pricing plans based on the functions you'll be using. It offers both startup and pro plans with increased functionality including pre-built forms and various tools for time tracking, a customer payment portal, and data importing/exporting, to name a few.
One of the most impressive features of Service Autopilot is its ability to automate your business. This includes marketing, estimate-follow-ups, lead intake, job dispatch, customer service, and upsell automations. That's just the tip of the iceberg. You can literally automate just about anything, including equipment repair and hiring/termination. The idea is to take the work out of your hands and place it within an automated system, so that you can streamline and maximize efficiency. Automations are one of Service Autopilot's key features and it's a valuable tool if you're looking to scale and grow your business.
Jobber. Another popular CRM provider is Jobber. Based out of Edmonton, Canada, Jobber also serves up a robust functionality. Jobber is able to automate many aspects of your business, while also serving as the hub of your business through data management.
Jobber has many cool features including calendar integrations and map views for scheduling with automatic routing and GPS tracking. This feature means you can accurately track non-billable and billable time for your jobs. Another interesting feature is Jobber's ability to send text message estimates to customers, which can be created on-site through the mobile app.
Additionally, and similar to Service Autopilot, you can track customer payments from your dashboard. In this way, you can keep track of money going into your bank account and when it will be available. When compared to other CRM's, Jobber's dashboard feature is by far one of the most impressive.
And, like Service Autopilot, Jobber utilizes a SendJim integration for print and voice mail bomb marketing. Jobber also integrates with Mail Chimp for this same purpose, while Service Autopilot relies solely on SendJim. Here you can create and send post cards, in addition to automated email marketing.
LMN. LMN, also based out of Canada, is another weighty CRM provider, in that it offers many different functions at different business levels. But which is the best landscaping crm? Like Jobber, LMN's dashboard feature is where you will find most of the information you will need to run your business. This includes estimate goal tracking, monthly new-lead count, referral sources and sales tracking. You can also track job budgets for field labor, equipment, material and overhead.
Data management seems to be LMN's strong point, versus other CRM's. While LMN does not offer automated marketing in the way of emails and print media, it does offer the tools you'll need to run your business efficiently on a day-to-day basis. It does, however, offer automated invoicing, which is a nice touch if you're struggling to find the time to send invoices manually.
LMN's strong-point seems to be its ability to help you price for profit, especially with its overhead recovery monitoring and job tracking features. The power of LMN appears to be in budgeting and profit, both very important in growing your lawn care or landscaping business.
Real Green Systems.Based out of Walled Lake, MI, Real Green Systems is another robust CRM provider with all the tools and capabilities you'll need to run your business smoothly and efficiently. Is Real Green the best landscaping CRM? Real Green Systems offers automated email marketing, after-care, and upsell emails, and has the ability to place some of the legwork in the customer's hands with their Lawn Bot integration. Here, customers and new leads can properly measure their property, saving you the time and hassle of doing it yourself. With this feature, a customer can receive a quote within 60 seconds, eliminating the need for a phone call or follow-up. Pretty cool!
Another interesting feature is mobile alert weather tracking. This feature provides your crews with regular weather updates so that they know to go ahead (or not) with a particular service. This is something I have not seen with other CRM's and can be quite handy for crews in the field.
Real Green also has their own marketing department that will help you create direct mail, custom designs, print materials, as well as digital marketing campaigns. Stacked on top of their already-robust offerings, this is a convenient add-on to keep all your marketing in-house.
One of the best features of Real Green is its sizable amount of reporting abilities including access to over 130 reports—so you can manage and track data with ease.
Like LMN, Real Green offers a dashboard with a wealth of valuable information you'll need to run your business without having to toggle to different screens or reports. Data management and reporting appears to be a strength of Real Green Systems, in addition to their other service offerings.
Other CRM's Available
As mentioned, there are a number of CRM's available on the market today. Aside from Service Autopilot, Jobber, LMN, and Real Green Systems, just some other CRM providers include: FieldEdge ● FieldRoutes ● House Call Pro ● LawnPro ● RazorSync ● Service Titan ● Yardbook ● WorkWave
Whether you have 20 customers or 2,000 customers, the best landscaping CRM program has the power and potential to bring your business to the next level. With key features like automations, reporting capabilities, mobile field applications, job scheduling, and expense and payment tracking, CRMs take the pen and paper out of your hands and transforms your business into the well-oiled machine you've always envisioned. Most importantly, you'll be able to focus more on running your business, rather than allowing your business to run you.
Martino handles sales, marketing, and implementation with Ready Business Systems, which helps choose the best landscaping crm. Ready Business Systems specializes in helping landscaping businesses in the U.S. and Canada to free employee time and increase profits through consulting, automated systems building, and expert marketing. Services include set-up, training, and optimization to help organizations operate efficiently. Founder Justin Woodford owns the landscaping company, 855RILAWNS. Refined work habits, systems, and processes enabled him to step away from the day-to-day and remotely monitor and optimize his landscaping businesses. After becoming a Service Autopilot Certified Advisor in 2018, Justin started Ready Business Systems. For more information, or help choosing a CRM for your business, visit readybusinesssystems.com.