I believe in being hands-on with my reviews, so since I am doing reviews of SendJim, I decided to contact SendJim personally and ask them to send me some of their products. This way I could write a hands-on, personal SendJim review of my own experiences, rather than relying on what others said about them. So, here is my unbiased, personal SendJim review of the brownies they send out.
SendJim Review of Brownies Part 1 – Shipping & Packaging
The brownies came in a First Class box 7 days after I requested some samples, so it was very quick.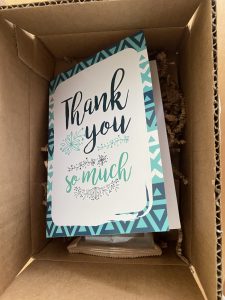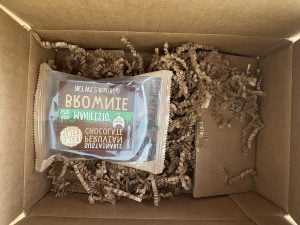 I received two brownies and a nice thank you card from the company for requesting them. The box was packed with shredded paper to keep the brownies safe in transit. Very well done.
SendJim Review of Brownies Part 2 – Look & Texture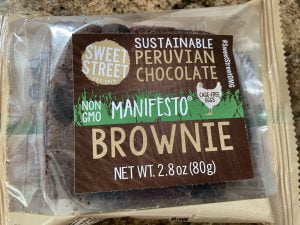 Now, I have to admit. I'd never had a Peruvian chocolate brownie before. At least, not that I know of. But hey, it's chocolate, and I was excited to try it. Each brownie was sealed in a vacuum-sealed bag to ensure freshness.
When I opened the package, I was thrilled to see it covered in chocolate chips. I knew I was in for a treat!
Here's a picture of the inside so you can see how light and fluffy they are. 
SendJim Review of Brownies Part 3 – Taste
One bite from the brownie and I was in chocolate HEAVEN! I'm someone who prefers my brownies fudgy as opposed to having a cake-like texture, and these did not disappoint. Every bite brought me to chocolate nirvana and I had to stop myself from eating the other one. I'll save it for later. Such delicious food needs to be savored and not rushed.
If you are searching for a gift to send a client either as a thank you for their business or perhaps as something to 'sweeten' the deal, I highly recommend these brownies. They are non-GMO and are made with sustainably sourced Peruvian chocolate, so you can feel good about supporting the company that makes them.
Are you interested in giving SendJim a try? Sign up with our affiliate link and enter the promo code WCR to receive 100 free postcards.