One of the most annoying and time-consuming things is payroll. It has a lot of forms and things to worry about. That's why a lot of businesses use payroll business automated services. Not only does it cut down on time and paperwork, but it also takes a lot of the guesswork out of payroll. Below are 4 benefits of payroll business automated services.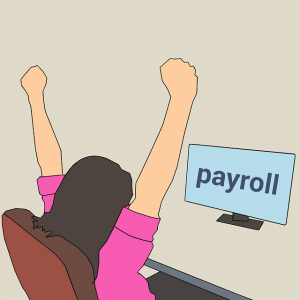 It's Quicker & Easier to Calculate Wages
When you do payroll manually, you have to pore over spreadsheets, calculate different kinds of payments and write your checks manually. Even if you don't have a lot of employees, it takes a lot of time to do it each pay period. And it makes it even more difficult when you have people taking time off.
Using payroll business automated services or software can perform all kinds of payments quickly, from basic hourly wages and salaries to more difficult functions such as double-time, overtime, bonuses, raises, commissions, wage deductions and more.
Not only that but checks are automatically generated and allows you to do direct deposit.
Payroll Business Automated Services Allow Timekeeping to be More Accurate
When you are using a manual payroll system, it means that you have to calculate hourly wages and data from the timeclock from hand/. This is time-consuming, and it can leave lots of room for error. When you have an automated system, the data from your time clock can go right into the software. Then the software will calculate the total amount of time a person worked. Any edits that are necessary like when an employee forgot to clock out or in can be easily and quickly made.
Tax Deduction Calculations are Easier with Payroll Business Automated Services
Mandatory withholdings for federal, Medicare, Social Security and state taxes are hard to manually calculate and time-consuming. Not only that but the tax regulations and rules are always changing.
Using payroll business automated services makes it a lot easier because the tax rates are coded in. They can calculate each employee's holding tax. This will help with reducing the chance of errors.
Payroll Services Gives Improved Bookkeeping & Less Clutter
It's required by the IRS that employers keep their tax records for a minimum of 4 years. The DOL of the US requires the records to be kept at least 3 years. When you think about it, that is a lot of forms to worry about, and these all need to be manually filled out, then filed before being stored. Payroll business automated services take care of that by generating and storing employment payroll and tax data, which cuts down on clutter and time.
As you can see, using payroll business automated services can save your business a lot of time and headaches. If you are looking for a good choice for an automated payroll service, we recommend Gusto. We use it ourselves and find it's very simple to use. Check out another blog I wrote about Gusto.