---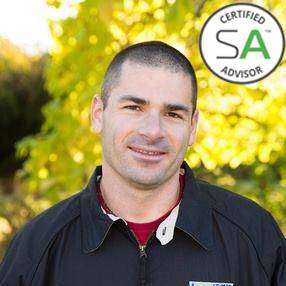 "I have been using Service Autopilot as a hub to run my landscaping business 855-RILAWNS since 2015. Since then, by constantly focusing my energy on setting up the software and integrating systems, my landscaping company is now programmed to run itself. For any task that is not programmable to happen on its own (emails, text messages, billing, etc), there are automated recurring tasks delegated to specific employees to ensure their completion.
Fast forward to today, and I spend an annual average of about 1 hour per day refining my systems, monitoring financials, and consulting with my manager at 855-RILAWNS. The rest of my work day I spend building my real estate company, Yorktown Realty, and developing Ready Business Systems. Since I work 100% from home, I still have plenty of time to hang with my daughter, spend time with friends and family, mountain bike, spearfish, and kiteboard, to name a few hobbies. Service Autopilot was the seed to my freedom and I can help you accomplish what I did."
The habits and strategies I use to have such a good work-life balance, I outline in our free "Guide to Freedom" eBook available for download here.
---
How will Service Autopilot Benefit your Business?
No matter how big or small your service company is, it is best you set up scalable software EARLY, BEFORE you need it. By the time you NEED it, it will be too late and you will be running around like a chicken with its head cut off. In business, you never want to be a fireman, you want to be Smokey Bear preventing fires!
If I am making a correct assumption, right now you are using something like Quickbooks and Google Sheets to run your business. This is what I used to do, but I knew there had to be a better solution!
Before I started using Service Autopilot as my CRM in 2011, I used to have my crews enter dates on Google Sheets, and then I would go in and copy and paste those dates into Quickbooks, and from there manually create everyone's invoices. How time consuming and un-scalable! Service Autopilot not only automated all these tasks for me, but it also added so many other powerful features.
If you don't think Service Autopilot is a good match for you, you might want to check out our page on Jobber or LMN.
Since my days of copy and pasting into Quickbooks, my process now looks something like this:
Service Autopilot at Work at 855RILAWNS
Below I will show you in 10 steps, just a few features of how Service Autopilot helps us at 855RILAWNS. This is only a tiny fraction of how powerful this CRM software is, but you get the idea..
---
Automatic Lead Creation
A new lead comes in through the website, and automatically creates a lead in Service Autopilot (no copy and pasting!). The manager has 5 days to write up a quote, in which time the manager will receive reminders and the lead will receive constant communication with emails and text messages on the status of their proposal and sales information.
---
Lead Communication
2) The lead is text messaged a greeting, an introductory email, and a task is generated for my manager to write up a quote.
---
Built in Maps
3) The manager measures the property using Service Autopilot's "smart maps" feature, which will save the square footage in the lead's account.
---
Easy Estimating
4) The manager will type in the square footage, which will generate a beautifully pre-written, in-depth quote.
---
Professional Proposals
5) Once the manager sends the proposal, the system will automatically mail the client a welcome letter in the mail, leave them voicemails to follow-up and send them texts and emails as well. Remember folks, the only thing a human has had to do so far is type in the property square footage and send the quote!
---
Automatic Payment Acquisition
6) Once the lead accepts the proposal, they will be sent an email to enter their credit card information and the Office Administrator will schedule the work.
---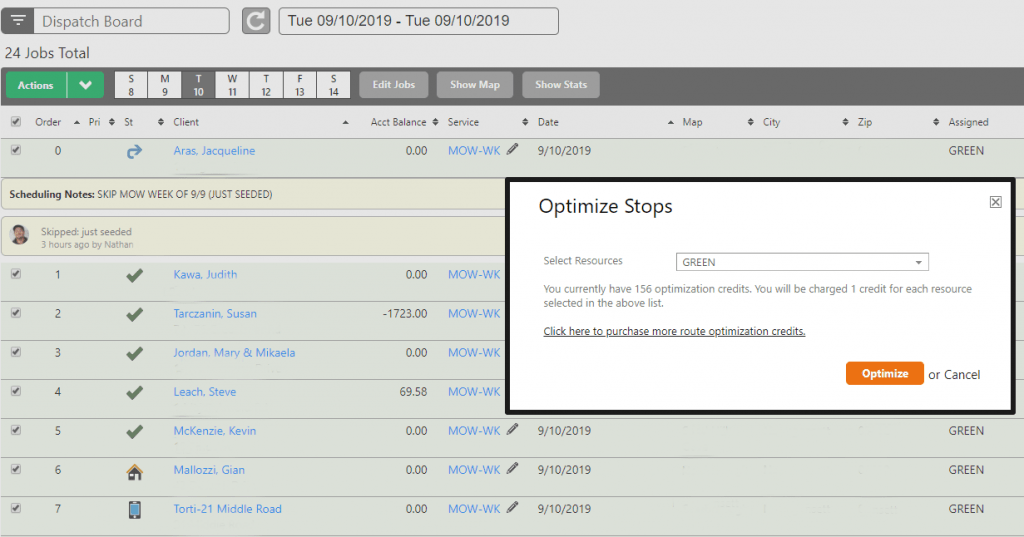 Powerful, built-in Routing
7) The Office Administrator will then route the schedule using Service Autopilot's built in routing feature, which will put your stops in driving order with one click.
---
Synced Mobile App
8) The crews can then see the jobs to navigate, clock in and out, and complete jobs using the Service Autopilot Mobile App.
---
Service Autopilot Increases Cash Flow
9) When the crews mark the job complete, it AUTOMATICALLY generates an invoice for the client and with one click, we get paid and cash is in our bank account the next day!
---
Ongoing Marketing
10) Any clients or leads that don't book work (or haven't purchased all of our services) will continue to be marketed to throughout the year with postcards, emails, and voicemails promoting different services, until they buy! THIS IS ALL AUTOMATIC. If you are wondering what this is a picture of, this is the inside of Service Autopilot Automations! (super powerful stuff)
---
---
What Ready Business Systems can do for you:
Initial Service Autopilot setup and training.
Build custom automations to suit YOUR business needs.
Ongoing support to tweak, fine tune, and update your automations.
Train yourself or staff on how to use the system for YOUR business needs.
Help you integrate Service Autopilot with outside websites, email, phone system, collections, and marketing.
---
What our customers have to say…
We are absolutely thrilled with the exceptional service provided by RBS and working with Steve. The marketing automations build outs they have implemented for our business have exceeded all expectations.
Thanks to RBS and Steve's expertise, our marketing efforts have been transformed. The time and effort saved through these automations are truly remarkable. We no longer have to spend countless hours manually managing our marketing campaigns. The automations have streamlined our processes, allowing us to focus on other important aspects of our business.
Not only have these automations saved us time, but they have also significantly improved our overall marketing effectiveness. Our campaigns are now more targeted, personalized, and efficient. The results speak for themselves, as we have seen a noticeable increase in customer engagement and conversions.
Thank you, RBS and Steve, for your exceptional work and for going above and beyond to meet our needs. We are grateful for the positive impact you have made on our business.
Justin and Steve have done so many positive things for our business. They seem to have a solution for every problem we have in our business, or at least another take on our issues. Justin takes a mentor/coach approach. Ready Business Systems is/ has been a valuable part of my company's success this year.

Justin has been a huge help to our business between automation and mareketing implementation. He can accomplish in hours or days what would take me months or years!
He is always quick to get back to us and over communicates any issues going on. We will continue to use and recommend RBS to our network.

I would recommend Ready Business Systems to anyone that is needing help from building automation templates, to marketing their business, or just a 1 on 1 consulting calls! Ready Business Systems has bent over backwards to help me in any kind of situation that I came across with service autopilot! I highly recommend them! They will always be my go to!

Lawn Care Monster
2/17/2023
We have been working with Steve and Ready Business Systems since January and could not be more pleased with the results. Anyone wanting to take their business to the next level needs to work with Ready Business Systems!
---
Service Autopilot Subscription Options:
Use RBS as your launch advisor and receive the additional benefits below, for the same price as signing up through Service Autopilot directly!
*Note- you must sign up through RBS in order to receive these additional benefits*
Start up- $97 setup fee- FREE through RBS
$47/mo
Scheduling & Routing
Automated Invoicing
Clients & Leads (CRM)
Reporting and Expenses
Accounting Management
Basic Estimating
Credit Card Processing
Mobile App
User Roles & Rights
Pro- $97 setup fee- FREE through RBS
$97/mo
Includes Start up features AND
Employee Tracking
Job Costing & Analysis
Asset Tracking
Route Optimization
Estimating & Proposals
Chemical Tracking
Knowledge Base Wiki
Most Popular
Pro Plus- FREE through RBS
$247/mo
Includes Start up, Pro features AND
Automations(!)
Marketplace
Automated reports
Setup package
---
30 Day Guarantee
If you are not satisfied with Service Autopilot software by the end of your first 30 days, Service Autopilot will give 100% of your money back. Upgrade, Downgrade, or Cancel at Anytime. No Hidden Costs. No Contract. No Termination Fee.
---