Although many people have email these days, no business should be without a phone system. This will help your customer service.  When you have a business, one of the biggest decisions that you will have to make is to choose a phone system. This can be quite daunting a task, so we have given you five tips below to help you with choosing the right phone system for you and your company's needs.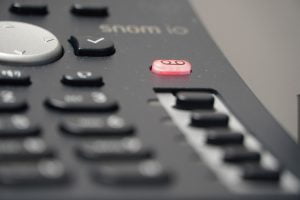 Decide Who Will Use the Phone System
The first thing you have to decide is who in your staff is going to use the phone system. Look at the business plan of your company,  You want to decide how many people will need a phone 3-4 years in the future. Simple business phones with two lines bought at stores can support 4-5 people very easily. However, if you are going to hire other staff members, you could need something more complicated.
Decide What Phone System Features You Need 
Next, figure out the features that are important to you. Do you have someone working in reception to answer the phones? Or will callers scroll through a menu of options? Do you need call forwarding or conference calls, and do you need voice mail? These are all things that you need to know, so create a list of the features that you want and need so that you can compare phone systems with it nearby.
Think About Where Your Company is Located
Now, look at the geographic locations of your company. If you have a few locations, you'll need a solution that's different than with one office. Many phone systems will require costly hardware in each of the physical locations. If there are various location sizes, you may have to choose different phone systems for each of your offices.
Find the Right Technology
Technology is the next consideration. PBX systems, also known as Private Branch Exchange, will put the technology for the phone mostly on the hardware which accepts the lines the phone company provides. When callers dial the number, this system will route that call to the right individual or department.
VOIP systems don't have central equipment or phone lines. Each of the handsets is a small computer which plugs into internet connections. These PBX systems are often expensive and difficult to program. However, they will scale well since extra handsets aren't expensive. A VOIP system's simple to use. They also can be spread over a lot of locations. However, their handsets are pricy, so they can be really expensive for a large office.
Location planning and long-term staffing are both necessary for comparing these two systems to help you decide what one you should choose.
Test the Options
Finally, before you make your final choice on your system, do a test run. This will tell you how easy they will be to program. How easy is it for you to program in new features, remove ex-employees and add some new lines to the system? A lot of key systems are very hard to program and companies often need to have service technicians to come in and program them. Select a system that's user-friendly so that constant service costs are reduced.
We are happy to provide you with a variety of Fortune 500 Phone systems for your company. If you have any questions, please get in touch with us and we'll be happy to answer them and show you what we can do for you and your business. And please, come back to our blog to see more helpful business tips.