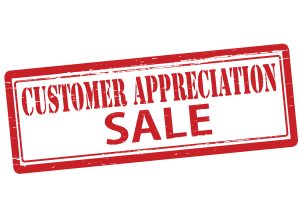 The holiday season is upon us. Today being Black Friday, we thought we'd do a blog on some of hte ways that you can show customer appreciation this holiday season. Below are three easy tips that you can use.
Send Out Holiday Cards To Show Customer Appreciation
One of the best ways that you can show your clients that you appreciate them is to send them holiday cards. if you can write a handwritten one, that is even better. This can help with bringing a more personal touch to your relationship with your clients.
When you are sending out holiday cards to your client, you are telling the clients that you appreciate them and that you're thinking of them. you can send out holiday cards mentioning specific holidays or ones that are just general.
For additional impact, you can handwrite a note inside the card, thanking them for being your client and offering them best wishes for the coming year.
Send Out Gifts to Show Customer Appreciation
If you have enough in the budget of your company, you might want to consider dropping off or sending your clients some gifts. You don't have to give them something especially expensive and it doesn't have to take up a lot of space. You might want to send them candy or something that can be enjoyed by the office if it's a corporate client. If it's an individual, you can choose something more individual.
SendJim has delicious brownies that they offer that you can have sent out to your customers.
Send Out Customer Appreciation Emails/Text Messages with Deals & Discounts
Another way that you can show clients appreciation is to your clients is to send them out emails or text messages with discounts and deals that you wouldn't have during any other time. A message like the following could be sent out to your customers:
"We appreciate that you have been a loyal customer this past year. Because of this, we are offering you some great discounts on some of our products/services. But act quickly because these deals are only good from ____ to ______. They're only good for current customers. This is just our way of showing you how much we appreciate your support and loyalty."
Some of the things that you can do might include:
Buy 1 service, get 1 free
% off of ____
Great deals for new services or products
Etc
What you want to do with this is to show your clients that you appreciate them and that you're giving them something only loyal clients will get. You want your clients to feel special.
These are just three things that you can do to show customer appreciation during the holiday season. If you have any questions or want to know more, please contact us. And don't forget to follow us on Facebook.