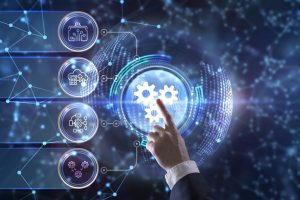 At Ready Business Systems, we have a firm belief in automation. We have employees working for us from all over, so cloud-based services for automation and other uses are ideal for us. Below are 4 benefits of cloud based automation.
Cloud Based Automation Reduces Human Error
One thing about humans is that they make many errors when working manually. They forget about tasks, make mistakes in math, and more. There are a lot of things that may go wrong when it comes to manual work. Business workplace automation tools can help with fixing a lot of the issues.
A big concern that a lot of businesses have is that there will be cracks in the workflows. It could be that someone didn't follow up with the customer in time or a miscalculation by a manager regarding commission. There can be many cracks in the workflow of a business, either deliberately or accidentally, and these can cost a business many useful resources.
This type of tool helps to make sure that errors are minimized. There are defined processes followed in the system, and therefore the chances of errors are reduced greatly.
Even though any kind of tool will have no trouble reducing errors, one that is cloud-based is going to be a lot more efficient mainly because it lets more than one person work on the job and do it from anywhere.
Team Productivity is Enhanced with Cloud Based Automation
Automation tools that are cloud-based typically have productivity tools that offer time management, communication, task management, and other things. These kinds of tools can be used by the team to work a lot more productively. This is done with active monitoring of the tasks that were assigned to the team, reacting to the newest notifications, and managing time proactively to help it be used better.
For instance, tools for task management like day to day task lists, calendar views, and others can be used for staying ahead of day-to-day tasks without you having to remember things. All the employees have to do is to check for those tasks that were on their list and then do them according to what their priority is. This helps with making sure that the tasks that are most important are done first.
Customer Satisfaction is Improved with Cloud Based Automation
Customers usually aren't known for being patient or forgiving. They easily change their minds and when a mistake is made by your business, the process can be accelerated. If you're not following up with them in a timely fashion or asking them questions over and over again, it's possible they're going to lose their interest or think that your business is unprofessional.
Employees can Work Remotely with Cloud Based Automation
One of the best things about automation tools that are cloud-based is that they let the employees work anywhere. Whether they're on the road or they're simply working from home, something that came in very handy in the past couple of years, they are still able to access their work and do with it without missing deadlines or hiccups. This means that the managers are also able to check up on an employee's progress even if they aren't at the office.
As you can see, there are four reasons why cloud-based automation is a good idea for many types of business. We use a couple of cloud-based services, including Service Autopilot and Gusto.  Please contact us if you're interested in learning more about any of our services. You can also connect with us on Facebook.