I wanted to share a strategy we have been implementing for the past 3 years in my landscaping business. We call it our "promo mow" service which integrates with Service Autopilot Automations as well as SendJim.
Every landscaper knows that potential clients judge your pricing based on your lawn mowing price. Your other services can be cheap, but if your lawn mowing price is expensive, you will be labeled as expensive and consumers will shop around and may not go with you. Lawn mowing is the "foot in the door" service for landscapers.
To make it worst, for most landscaping service focused businesses, lawn mowing is also the bread and butter for your business. Achieving the necessary charge rates required to keep your company profitable on your lawn mowing service is essential!
I have been there- bid a lawn, and then realized it was underbid months down the road or even at the end of the season. You just paid this customer to mow their lawn all year!
I needed a solution to both these problems! And thus I created the Promo Mow.
1) Promo Mow Estimate Description
The screenshot to the right is our estimate description for our promo mows. Every customer that signs up for service with the company digitally signs off to the terms on this estimate. The price of the service is based off of the square footage of the property so bids can be sent quickly and remotely. The price is designed to be about 2/3 of our target price for that sized property.
By sending these bids out, we are also able to save time estimating (no driving to bids) without fear of underbidding jobs.
Promo Mow Automations
Setting up an automation ensures that this promo mow price adjustment does not go overlooked!
As stated in the estimate, after the 4th promo mow service is completed, the office admin is sent a to-do with instructions on how to go about increasing the customers mow price for future visits.
Service Autopilot Service History
By design, we are not going to make out well on these first four lawn mows. BUT- we will win the job as our price will be very competitive, and we will ensure that the other 22 cuts this season, and future seasons, are performed profitably or we will ditch the account.
However, if the grass is very high, we are still covered as our estimate states we have the right to charge hourly if the grass is over 6″.
In this example, the client on average takes .8 man-hours to mow, so their price would increase from $40 to $68 based on a target charge rate of $85/man/hour. However, the expectation has been set in the initial estimate that this is a promotional price and their price WILL go up so a price increase is expected.
New Price Email through Service Autopilot
As stated in their original estimate that they agreed to, the customer will be sent an email with a new price, based on the time data of the first four cuts, letting them know what future visits will cost. As stated in the original estimate they agreed to, if they do not cancel services we will automatically continue at the new, accurate price moving forward.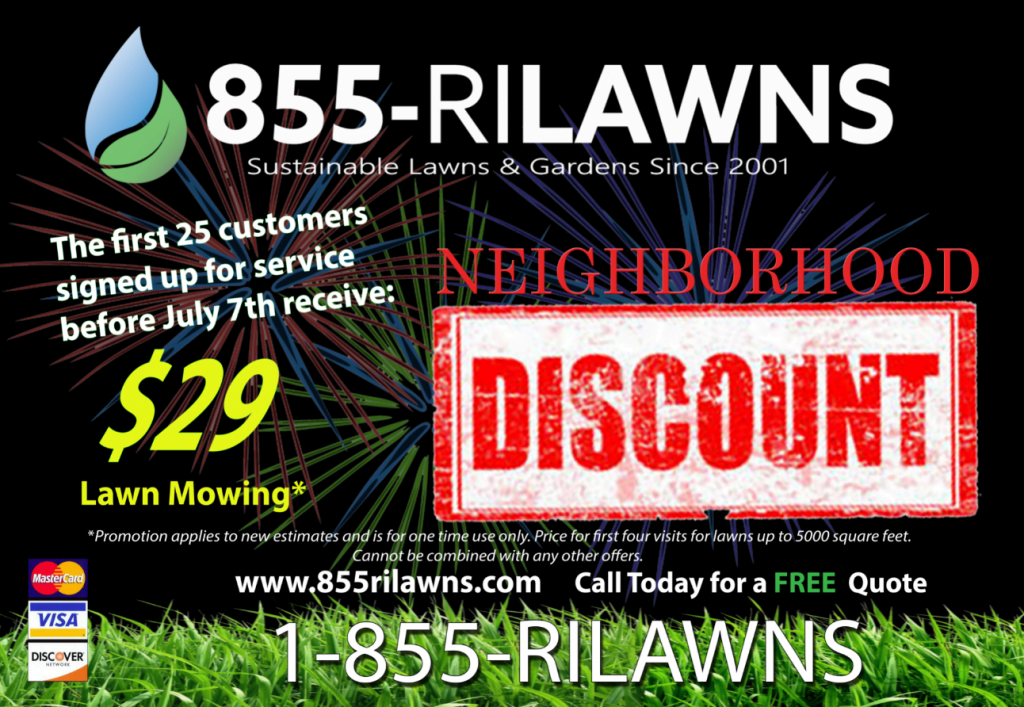 Service Autopilot Automations with SendJim
The postcard to the left is mailed out to 5 neighbors the first time we cut a customer's lawn each season through SendJim. This helps us increase density and works in line with our promo mow marketing theme.
Facebook Ad through Adroll
This digital Facebook Ad, run through Adroll, is also used to market the same promo mow concept to any consumer who has visited our website in the past 90 days.
Thank you for reading and I hope you can utilize this strategy in your business! If you would like to stay in the loop of offerings by Ready Business Systems please fill out our contact form here.