Sign up for SendJim through this link and enter code "WCR" for 2 weeks free and 100 free postcards!
I am so excited about this SendJim stuff that I just had to write a blog post on it!
SendJim, for those that don't know, is a marketing company that mails out post cards, gifts, and does what they like to call "voicemail bombs" which inserts voicemails into voicemail inboxes without ringing the phone. How you may ask? I have no idea and either does the rep I spoke to. But who cares? It's awesome!
For my landscaping company 855RILAWNS, I currently have marketing automations which ensures that marketing routinely happens 5 times throughout the year. This marketing, among other things, includes mailing and calling new homeowners, clients, former clients, and leads. It also entails having the crews put out door hangers to neighbors as they do the work.
In theory the marketing plan is very thorough, but people aren't machines. They have to be managed and reminded to put out door hangers as well as making phone calls (which they hate). Also it is rare that we actually get through the lists before we get distracted by other tasks at hand.
So I am psyched because SendJim does all this stuff and they ARE a machine. I was able to sub out to-dos in my automations for SendJim automations, so now our marketing materials go out religiously 5x per year to all of our clients, leads, and inactive clients.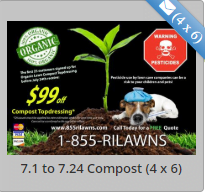 On top of this, when certain jobs are completed, as in spring cleanups, mowing, compost topdressing, renovations, or fall cleanups, postcards are mailed to all of their neighbors. Without lifting a finger!
Other additions include $25 gift cards for referrals which used to have to be handled by office staff, as well as apology card mailed with gummy bears triggered manually by office staff or automatically when someone rates us a 6 or lower on our weekly feedback survey.
New lead greeting letters are mailed when new leads are entered into the system.
Last of all, voicemail bombs!
We also have recruiting Automations set up in which field applicants are emailed, texted, and now Voicemail Bombed with employment incentives throughout the season!
By this winter, after testing in my 855RILAWNS account, I will have full SendJim packages available in the Service Autopilot Marketplace for download into your account, all the way from Automation setup through custom designed marketing pieces to suit your company!
If you are interested you can sign up here to ensure you don't miss out!