Want more TIME, MONEY, or LESS STRESS?
Download our Guide to Freedom today for best practices and solutions to run an efficient, profitable company, and live a balanced life.
What Exactly is the "Guide to Freedom?"
The Guide to Freedom is the summary of my knowledge gained after 20 years of running a landscaping company. It is all about saving TIME and running and EFFICIENT operation.
Once I started consulting for other landscaping companies in 2018, I started jotting down all the advice I gave them into a document. I started to jot down all the things I do that save me time. Each client I worked with, I added to the eBook, until it is where it is today.
In the past I have charged $1000-$2000 for this information, but now I am giving it away for free in hopes we can earn some of your business. Either way the book is yours to keep.
Our free eBook covers:
Marketing
Communication
Accounts Receivable
Accounts Payable
Human Resources
Sales
Administrative
Free email templates
And more!
Justin has been a huge help to our business between automation and mareketing implementation. He can accomplish in hours or days what would take me months or years!

He is always quick to get back to us and over communicates any issues going on. We will continue to use and recommend RBS to our network.

Justin is great. He is a fantastic listener and has really helped us to streamline our systems. I highly recommend Justin!
Justin has been helped us analyze and overcome some of our greatest business challenges! We now have a much better understanding of our job costing and greater confidence to bid at necessary rates to cover overhead & profit. He has implemented estimating & bidding systems within our Service Autopilot software to eliminate unproductive time spent manually generating estimates via Excel, Word, etc. He has been quick to respond, thorough, patient and professional. He is able to help with just about anything we request and for that we are most grateful. We will continue to work with him to refine our business systems and would not hesitate to recommend him to other small business owners.
I met Justin a couple years ago and didn't do anything at the time with him. As my business grows I now wish I would have implemented systems earlier. He's been a great sounding board for new ideas and has an extensive knowledge of the software systems used in a service based business. We look forward to a long term working relationship with Ready Business Systems.
Bren VanderZwaag
4/28/2021
Justin and Steve have done so many positive things for our business. They seem to have a solution for every problem we have in our business, or at least another take on our issues. Justin takes a mentor/coach approach. Ready Business Systems is/ has been a valuable part of my company's success this year.

Want more free stuff? check out our freebies page
About Justin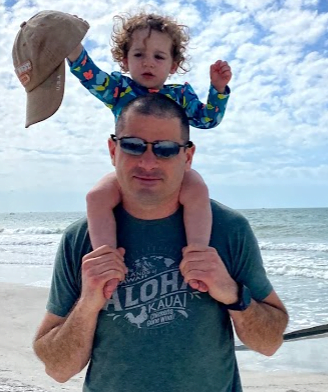 Hi! My name is Justin Woodford, founder of Ready Business Systems.
A very typical question people ask one another when they first meet is, "what do you do"? It used to be a very simple answer for me: "I run a landscaping company." But lately I have had trouble answering this question-
I currently work from home about 25 hours per week. Of that, I spend about 5 hours a week on my landscaping company, 2 hours per week on my real estate business, Yorktown Realty, and lately, my primary focus has been building Ready Business Systems.
People close to me say I have a very good work/life balance. Don't get me wrong- when I work I work- but I still have plenty of free time! I like to spend my free time with my friends and family, playing volleyball, kiteboarding, mountain biking,
riding my motorcycle, and, when I can, traveling to escape Rhode Island's brutal winters.
I have this time largely because of the systems and automation I use in my businesses, which is what we can help you with through RBS.
Learn more about Ready Business Systems Below!