Want more TIME, MONEY, or LESS STRESS?
Download our Guide to Freedom today for best practices and solutions to run an efficient, profitable company, and live a balanced life.
What Exactly is the "Guide to Freedom?"
The Guide to Freedom is the summary of my knowledge gained after 20 years of running a landscaping company. It is all about saving TIME and running and EFFICIENT operation.
Once I started consulting for other landscaping companies in 2018, I started jotting down all the advice I gave them into a document. I started to jot down all the things I do that save me time. Each client I worked with, I added to the eBook, until it is where it is today.
In the past I have charged $1000-$2000 for this information, but now I am giving it away for free in hopes we can earn some of your business. Either way the book is yours to keep.
Our free eBook covers:
Marketing
Communication
Accounts Receivable
Accounts Payable
Human Resources
Sales
Administrative
Free email templates
And more!
We have been working with Steve and Ready Business Systems since January and could not be more pleased with the results. Anyone wanting to take their business to the next level needs to work with Ready Business Systems!
We are absolutely thrilled with the exceptional service provided by RBS and working with Steve. The marketing automations build outs they have implemented for our business have exceeded all expectations.
Thanks to RBS and Steve's expertise, our marketing efforts have been transformed. The time and effort saved through these automations are truly remarkable. We no longer have to spend countless hours manually managing our marketing campaigns. The automations have streamlined our processes, allowing us to focus on other important aspects of our business.
Not only have these automations saved us time, but they have also significantly improved our overall marketing effectiveness. Our campaigns are now more targeted, personalized, and efficient. The results speak for themselves, as we have seen a noticeable increase in customer engagement and conversions.
Thank you, RBS and Steve, for your exceptional work and for going above and beyond to meet our needs. We are grateful for the positive impact you have made on our business.
Partnering with Steve and the RBS team has been instrumental to the growth of our business. The business automation and marketing campaigns they've developed and implemented have all been a major success since day 1. We have received nothing but positive feedback from our customers as well which was a concern of ours. We will continue using them to scale our business all while alleviating the minutia of monotonous tasks utilizing their knowledge of the SA software and automated systems. Thank you Steve!
RBS has done some amazing work automating our Service Autopilot software! The amount of time saved with these automations is continuous. The days of being up till 10pm uploading new client details, sending out past due notices, following up on every estimate, etc are all gone. Thank you RBS for giving me so much time back and less stress.
As a long-standing partner with Service Autopilot, Ready Business Systems has been helping our members take their lead gathering and communication strategies to the next level. They set up automations that can lead to big growth for companies looking to go fast.

Want more free stuff? check out our freebies page
About Justin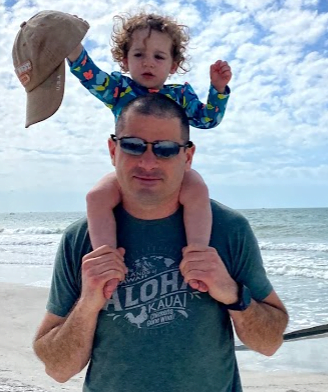 Hi! My name is Justin Woodford, founder of Ready Business Systems.
A very typical question people ask one another when they first meet is, "what do you do"? It used to be a very simple answer for me: "I run a landscaping company." But lately I have had trouble answering this question-
I currently work from home about 25 hours per week. Of that, I spend about 5 hours a week on my landscaping company, 2 hours per week on my real estate business, Yorktown Realty, and lately, my primary focus has been building Ready Business Systems.
People close to me say I have a very good work/life balance. Don't get me wrong- when I work I work- but I still have plenty of free time! I like to spend my free time with my friends and family, playing volleyball, kiteboarding, mountain biking,
riding my motorcycle, and, when I can, traveling to escape Rhode Island's brutal winters.
I have this time largely because of the systems and automation I use in my businesses, which is what we can help you with through RBS.
Learn more about Ready Business Systems Below!